See also NPD Seventh generation for United States sales figures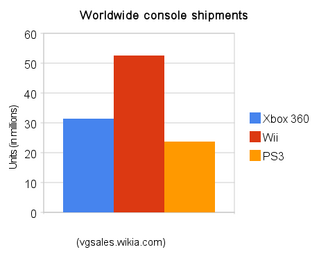 For home consoles, the seventh generation began on November 22, 2005 with the release of Microsoft's Xbox 360 and continued with the release of Sony's PlayStation 3 on November 11, 2006 and Nintendo's Wii on November 19, 2006. Each new console introduces a new type of breakthrough technology. For example, the Xbox 360 and PlayStation 3 offers high-definition graphics, while the Wii focuses on integrating controllers with movement sensors instead of joysticks and appealing to non-traditional gamers.
In the early days of the next-generation console wars, it was generally assumed that it would be a three-way race between the Xbox, the PS3 and the Wii. But because of the Wii's different strategy, Sony and Microsoft no longer compare their consoles' sales performances to that of Nintendo's.[1]
The rationale seems to be that the Xbox and PS3 are completely different types of machines than the Wii, given the former's reliance on high-quality graphics and superior performance and the latter's focus on more casual games intended to appeal to a broad audience.
Whether that is semantics is a question neither Sony nor Microsoft seem eager to answer. In fact, both frequently make the point that Wii owners often also own either an Xbox or a PS3, if not both.[2]
As of June 30, 2009 financial reports, the market share is Wii at 48.7%, Xbox 360 at 29.1% and the PlayStation 3 at 22.05%.[3]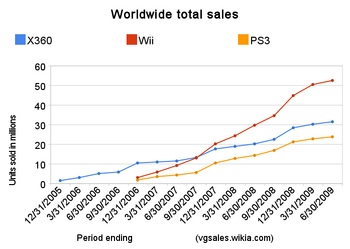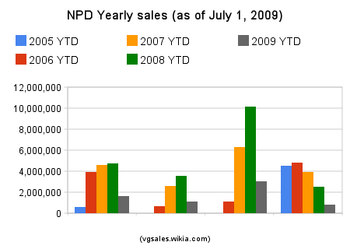 Hardware sales
Xbox 360 had approximately a 2.7 million unit head start in the US and 6 million worldwide lead by October 2006 just before the release of the Nintendo Wii and PlayStation 3.[4]
The Xbox 360 started off the seventh generation in November 2005. It quickly sold out and struggled with keeping up with demand for several months afterward. The console achieved solid sales in the United States and Europe, but like its predecessor, struggled in Japan. Despite being a Sony stronghold last generation, Microsoft managed to penetrate the European market successfully. The PS3 and Wii released in November 2006, though the PS3 delayed its European release until Spring 2007. Both consoles were a popular item for the 2006 holidays and sold out immediately. However, after initial hype died down the PS3 experienced .
Wii took the world by storm very quickly after its release. The console struggled to meet demand for many months after release around the world and it was only until 2009 that the U.S. had ample supply of the console. Wii managed to attract gamers in all major markets and overtook the Xbox 360 in worldwide sales on September 2007[5] and in the U.S. on July 2008.[6] In 2009, Wii surpassed 50 million units sold.
Worldwide figures are based on data from the manufacturers. The Canada and the United States figures are based on data from the NPD Group, the Japan figures are based on data from Famitsu/Enterbrain, and the United Kingdom figures are based on data from GfK Chart-Track.
Console
Units shipped to retailers (worldwide)
(as of June 30, 2009)[7]
Units sold in Europe
[8][9][10]
Units sold in Canada
(as of August 1, 2008)[11]
Units sold in Japan
(as of April 2009)[12]
Units sold in the UK
(as of January 2009)[13]
Units sold in the US
(as of January 1, 2009)[14]
Units sold in France
(as of June 2008)[15]
Units sold in Australia and New Zealand
(as of July 2008)[16]
Units sold in Italy(as of Nov 2008)[17]
Wii
52.62 million[18][19]
14.2 million (January 2009)[20]
1,060,000
7,929,249
4.9 million
17,521,000
1.8 million
456,000
799,500
Xbox 360
31.5 million[21]
7 million (November 2008)

870,000

1,007,580
3.2 million
13,857,400

700,000

500,000 (January 2009)[22]
623,500
PlayStation 3
23.8 million[23]
5 million (May 2008)

520,000

3,093,519
1.9 million
6,790,000

800,000

285,000
704,500
Nintendo DS
107.75 million[24]
31 million (January 2009)[25]
26,326,074
8.8 million
27,514,500
2,920,500
PSP
~53.39 million[26]
12 million (as of May 2008)[27]
12,228,225
3.2 million
14,359,500
1,475,500
	   PS2          NDS          PSP          360          PS3          Wii
2000	 3,748,200	
2001	 3,603,700
2002	 3,652,800
2003	 2,812,500
2004	 2,750,800    1,095,900      339,900
2005	 2,134,900    4,002,900    2,225,800       81,800
2006	 1,547,900    8,862,900    1,946,900      208,700      466,700      989,100
2007	   816,400    7,143,700    3,022,700      257,800    1,206,300    3,629,400
2008	   480,700    4,029,800    3,543,200      317,900      991,300    2,908,300
Total	21,547,900   25,135,200   11,078,500      866,200    2,664,300    7,526,800
Software sales
Main article: Best selling games (seventh generation)
Video games in the seventh generation took a different turn. With the high popularity of the Wii coupled with its low development cost, developers put out games that focused on reaching other demographics. Cooking games, fitness games like Wii Fit, and other games with a more casual focus were very popular. Party/minigame compilations were produced by many small-time developers with stunning success. Because of the low graphical power of the Wii (and many consumers who did not care much for graphics), the Wii was a target for shovelware games. Many games looked inferior to Gamecube games. Others chose the largely risk-free approach of simply porting PS2/Gamecube games to the Wii as a cheap yet effective cash-in. Much debate centered around whether Wii was a viable platform for core games. Many developers chose not to downport their games to the Wii for this reason and the console war, in regards to gaming, became a battle between Wii vs the HD consoles (PlayStation 3 and Xbox 360). Though Nintendo found great success on their system, third party games struggled in the marketplace, another reason why some developers stayed away from the Wii.
The increasing developer costs and close HD console race led many to consider releasing their games on multiple platforms. The first surprises were Grand Theft Auto going multi-platform and Square-Enix announcing at E3 2008 that Final Fantasy XIII would release on the Xbox 360 alongside the PS3 in the U.S. Even so, exclusive games were critical factors in gamers minds. First party efforts by Microsoft included a new Halo game, a new successful IP in Gears of War, and the Xbox Live infrastructure. As a result, Microsoft had a very strong tie ratio. PS3 saw success in new iterations of Metal Gear Solid, Killzone, and Gran Turismo and new IPs in Uncharted and LittleBigPlanet. PS3 pushed the graphical barrier to new heights. Of special note was Killzone 2 and Heavy Rain.
Rhythm games became very popular with Guitar Hero and later Rock Band achieving record-breaking sales and revenues despite their higher price points. With the increase in online gaming, first person shooters, especially war-based, became very popular. The Call of Duty franchise exploded in popularity and sold comparably to Grand Theft Auto and Halo games.
Best selling games worldwide in 2008 (source)
Best selling games in the United States
Since different dates are used, do not consider this an ordered list.
Wii Sports (bundled)
Wii Play - 10,480,000 (March 2009)[36]
Wii Fit - 6,490,000 (March 2009)[37]
Guitar Hero 3 - ~5.9 million (January 2009)[38]
Mario Kart Wii - 5,830,000[39]
Halo 3 - ~5.8 million (January 2009)[38]
Madden NFL '09 - 5.25 (January 2009)[40]
Grand Theft Auto IV - 5.18m (January 2009)[40]
Call of Duty: World at War - 4.63m (January 2009)[40]
Super Smash Bros. Brawl - 4.17m (January 2009)[41]
Assassin's Creed - ~3.5 million (January 2009)[38]
Rock Band - 3.2 million (January 2009)[38]
Call of Duty 4 - 3.04m (January 2008)[42]
Guitar Hero: World Tour - ~3 million (January 2009)[38]
Best selling games in Japan (as of January 2009)
Best selling Xbox 360 games in Japan through January 2009 (source)

Blue Dragon 203,740
Tales of Vesperia 161,070
The Last Remnant 134,611
Infinite Undiscovery 112,444
Lost Odyssey 109,517
Dead or Alive 4 108,618
Viva Pinata (Platinum) 101,552
Forza 2 (Platinum) 100,591
Ace Combat 6 95,002
Halo 3 83,696

Best selling Wii games in Japan through January 2009 (source)

Wii Sports - 3,384,590
Wii Fit - 3,069,485
Wii Play - 2,618,189
Mario Kart Wii - 2,096,388
Super Smash Bros. Brawl - 1,747,113
Mario Party 8 - 1,310,766
Animal Crossing: City Folk - 1,016,906
Super Mario Galaxy - 945,106
Mario & Sonic at the Olympic Games - 594,157
WarioWare: Smooth Moves - 568,623
The Legend of Zelda: Twilight Princess - 552,476

Best selling PS3 games in Japan through January 2009 (source)

Metal Gear Solid 4 - 686,254
Hot Shots Golf 5 - 384,882
Shin Sangoku Musou 5 - 356,266
World Soccer Winning Eleven PES 2009 - 335,163
Dynasty Warriors Gundam - 312,674
Devil May Cry 4 - 310,012
White Knight Chronicles - 300,612
Gran Turismo 5 Prologue Spec III - 283,683
World Soccer Winning Eleven 2008 - 275,069
Yakuza: Kenzan! - 270,438
Best selling Nintendo DS games in Japan (source)
(As of April 2009)
Pokémon Diamond / Pearl - 5,624,430
New Super Mario Bros. - 5,406,786
Animal Crossing: Wild World - 4,976,041
Brain Age 2: More Training in Minutes a Day - 4,967,131
Brain Age: Train Your Brain in Minutes a Day - 3,750,890
Mario Kart DS - 3,355,781
Pokémon Platinum - 2,361,196
English Training: Have Fun Improving Your Skills - 2,051,037
Nintendogs (Labrador, Dachshund, Chihuahua) - 1,850,984
Mario Party DS - 1,832,265
Charts
Storylines
"First to 10 million wins." [2]
Many ports from PS2 games to the Wii. Capcom alone ported Resident Evil 4, RE0, Okami, Dead Rising.
"Red Ring of Death" for the Xbox 360
Many memes such as "year of the PS3"
Stock problems for Xbox 360 (half a year) and Wii (two years)
See also
References
External links
Community content is available under
CC-BY-SA
unless otherwise noted.