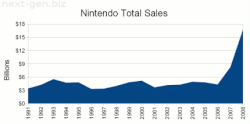 See also: 2008 fiscal year and 2009 fiscal year
The yearly sales earnings report (or Consolidated Financial Results) for Nintendo, Sony, and Microsoft tell us financially how each company performed, in terms of revenue, profit, console sales, and software sales. Also, each company provides sales forecasts for the subsequent fiscal year. Like most companies, game publishers also provide annual reports detailing their business results.
Note: A fiscal year does not mean January 1 through December 31. That is the calendar year.
Sony's and Nintendo's fiscal year begins April 1 and ends March 31 of the following year. (e.g. April 1, 2008 through March 31, 2009)
Microsoft's fiscal year begins July 1 and ends June 30 of the following year. (e.g. July 1, 2008 through June 30, 2009)
Microsoft's division, "Entertainment and Devices Division" (EDD) includes: "the Xbox 360 platform (which includes the Microsoft Xbox video game console system, Xbox 360 video games, Xbox Live, and Xbox 360 accessories), PC games, consumer software and hardware products, the Zune digital music and entertainment platform, Mediaroom (our Internet protocol television software), the Windows Mobile software platform, the Windows Embedded device operating system, and Windows Automotive." Sales results cover all those areas of business so Xbox-related revenues and profits may be higher or lower than report says. However, unit sales are always given for their gaming platforms.
Every quarter (3 months), each company posts a quarterly report for their shareholders, and may make adjustments to their previous forecasts.
Shipped vs sold
Prior to Q1 2008 (prior to April 1, 2007), Sony only quoted units shipped to factories, rather than sold to retailers as it does now. Officially, "production shipment units of hardware and software are counted upon shipment of the products from manufacturing bases."
NPD Group and other market research firms such as Media-Create track actual sales to customers.
Company sales earnings
Main article: 2010 fiscal year
External links
Official fiscal reports
Other