See also: NPD Seventh generation
November 2008 NPD sales data coverage: November 2 to November 29. Released on December 11, 2008.
November saw sales of Nintendo's Wii console reach over 2 million units, an increase of more than 100% from the year before. The console topped many people's This was largely in part to a large increase of supply by Nintendo. Even so, the console remains out of stock at many locations. Wii now holds the record for largest non-December month. The PlayStation 2 is the only other console to break the 2 million mark; it did so in December 2003.
Microsoft's Xbox 360 sold a strong 836,000 consoles, an increase of about 60K from last year. The PlayStation 3 experienced a poor November, only selling 378,000 units which is actually down from 2007. The number is only minimally larger than the seven year PlayStation 2. All three of Sony's systems are down from last year.
Call of Duty: World at War drove high software sales by moving more than 2 million units among all consoles. Gears of War 2, one of the new franchises of the seventh generation of video games topped the list with 1.56 million and an attach rate of 13%.[1] Nintendo's traditional offering performed well with Wii Music jumping in at #10. However, Animal Crossing Wii did not chart, nor did Mirror's Edge. From a Microsoft press release, they state that software sales for Xbox 360 were greater than that of the PS3. Presumably, this means Wii lead all consoles in software sales for the month.[2]
For the Thanksgiving week, Wii sold an astonishing 800,000 units more than double what is sold in 2007. Nintendo DS sales didn't jump as high but experienced a nice 20% increase from last year.[3] On Black Friday (the day after Thanksgiving), Microsoft reported a sales increase of 25% and outselling Sony's PS3 by 3:1.[4]
"The expanded supply of Wii systems at retail was clearly evident in the sales figures this month," says the NPD's Ana Frazier. "The 360 realized a nice unit sales bump over last November and the PS3 year-to-date unit sales growth is impressive."
Gears of War 2 (X360)
Resistance 2 (PS3)
Rock Band 2 (PS3)
Mirror's Edge (PS3, X360)
Banjo Kazooie: Nuts and Bolts (X360)
Call of Duty: World at War (X360, Wii, PS3)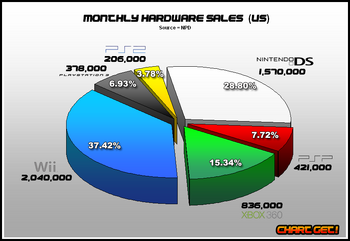 Compare with last year: NPD November 2007. See also NPD 2008 in review
Gears of War 2 (X360) - 1.56 Million
Call of Duty: World At War (X360) - 1.41 Million
Wii Play W/ Remote (Wii) - 796k
Wii Fit (Wii) - 697k
Mario Kart (Wii) - 637k
Call of Duty: World At War (PS3) - 597k
Guitar Hero: World Tour (Wii) - 475k
Left 4 Dead (X360) - 410k
Resistance 2 (PS3) - 385k
Wii Music (Wii) - 297k
Animal Crossing Wii (Wii) - [184k - 297k]
Fallout 3 (X360) - [184k - 297k]
Rock Band (Wii) - [184k - 297k]
Pokemon Ranger: Shadows of Almia (NDS) - [184k - 297k]
Guitar Hero: World Tour (X360) - [184k - 297k]
Mario Kart DS (NDS) - [184k - 297k]
Guitar Hero: World Tour (PS2) - [184k - 297k]
WWE Smackdown vs Raw 2009 (PS2) - [184k - 297k]
Fable 2 (X360) - 184k[0]
Madden NFL 09 (X360) - [184k - 297k]
Other software sales
Total sales: $2.91 billion
Hardware sales: $1.21 billion
Software sales: $1.45 billion
Accessories sales: $255.4 million
Community content is available under
CC-BY-SA
unless otherwise noted.