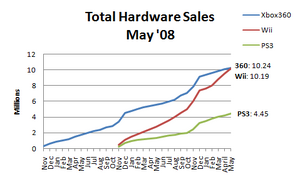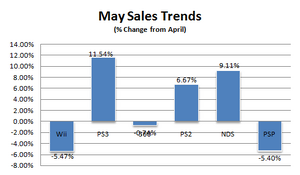 May NPD sales data Coverage: May 4 - May 31 (data released June 12, 2008)
Console sales figures for May were dominated by Wii and Grand Theft Auto IV. Wii had 675,000 units sold, a decrease from last month, but still the highest sales for any console in May ever. This decrease is due to supply issues which are expected to be remedied in the summer.[1] It is likely the console was supply constrained, again. The Playstation 3 sold 208K, edging out the Xbox 360 with 186K. There was little, if any, hardware increase due to Grand Theft Auto IV. Microsoft may need to consider a price drop in the near future.
GTA4 for the Xbox 360 captured the number one spot for the second consecutive month after its record breaking debut with sales of 871,300. This is nearly double Playstation 3's edition which managed 442K. The ratio between the two editions increased for the 360 from 1.85:1 in April to 1.97:1. Note, there are 2.3 times as many 360 consoles than there are PS3s. GTA4 is now the top selling game of 2008 (besting Call of Duty and Super Smash Bros. Brawl) with combined sales of 4.2 million units.
Mario Kart Wii stayed at #2 and Nintendo struggled to supply sufficient stock for Wii Fit and garnered a lower than expected 687K units in May. Grey market prices for Wii Fit are 62% above retail MSRP, indicating a large gap between supply and demand. Reggie Fils-Aime had mentioned a goal of 1 million units at launch which they clearly did not achieve. We Ski, a Wii game that uses the balance board, reached #12. Boom Blox, a new IP supervised by film director Steven Spieldberg got lost in the shuffle, selling only 60K units.[2] Haze (PS3) failed to reach the top 10 despite considerable marketing. Wii had 5 out of 10 places in the software charts including Wii Play, while the PS3 and 360 each had one game (GTA4). On the handheld side, Pokemon Mystery Dungeon for the Nintendo DS landed at #9 and #10. There were no PSP games in the top 10.
Starting this month, NPD will not release PS2 sales information to the public.[3] This month's PS2 units was released in a press release by Sony.
Notable releases
Edit
Hardware sales
Edit
Top 20 software sales
Edit
GTA IV (X360) – 871.3K
Mario Kart Wii w/ wheel (Wii) – 787.4K
Wii Fit w/ balance board (Wii) – 687.7K
GTA IV (PS3) – 442.9K
Wii Play w/ remote (Wii) – 294.6K
Super Smash Bros. Brawl (Wii) – 171.1K
Iron Man (PS2) – 130.6K
Guitar Hero III: Legends of Rock (Wii) – 116.8K
Pokemon Mystery Dungeon: Explorers of Darkness (NDS) – 107K
Pokemon Mystery Dungeon: Explorers of Time (NDS) – 102K
Call of Duty 4: Modern Warfare* (X360)
Iron Man (PSP)
We Ski (Wii)
Mario Kart (NDS)
New Super Mario Bros. (NDS)
God of War II (PS2)
Game Party (Wii)
Guitar Hero III: Legends of Rock* (PS2)
Haze (PS3)
Super Mario Galaxy (Wii)
Other software sales
Canada sales - Grand Theft Auto IV sales = 151,513 May / 420k LTD [4]
Video game revenues
Edit
External links
Edit
Community content is available under
CC-BY-SA
unless otherwise noted.