Halo is a shooter franchise for Microsoft's Xbox, Xbox 360 and Xbox One, Xbox Series X and Windows (PC). With development costs of over $100 million, it is one of the most expensive games ever made. Although Halo Infinite is rumoured to have a $500 million budget which is the biggest video game budget in history. As of March 1st, 2021 Microsoft has sold over 81 million Halo games since its 2001 inception.[1] The release of Halo 5: Guardians on October 27th, 2015 pushed Halo's lifetime sales past $5 billion.
The Halo franchise will be celebrating it's 20th anniversary alongside Xbox's anniversary on the 15th of November 2021.
Halo: Combat Evolved

[

]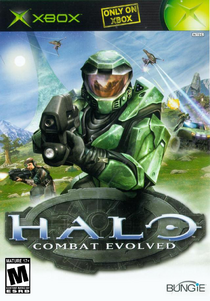 On its release Halo: Combat Evolved broke sales records; by April 8, 2002, one million units had been sold: this pace was faster than that of any previous sixth-generation console game. During the two months following Halo's release, the game sold alongside more than fifty percent of Xbox consoles. Halo's retail price remained at US$49.99 until November 30, 2003. By July 14, 2003, the game had sold three million copies worldwide, and by January 28, 2004, it had reached four million copies. As of November 9, 2005, Halo has sold over five million copies worldwide.
Halo 2

[

]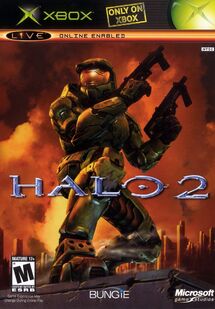 The first official release of Halo 2 was in Canada, Australia, New Zealand, and the United States on November 9, 2004. Anticipation for the game was high; three weeks before this release, a record 1.5 million copies had already been pre-ordered. Massive lines formed at midnight releases of the game; the event garnered significant media attention. This was followed by releases on November 10, 2004 in France and other European countries, and November 11 in the UK. The game sold 2.4 million copies and earned up to US$125 million in its first 24 hours on store shelves, thus out-grossing the film Pirates of the Caribbean: Dead Man's Chest as the highest grossing release in entertainment history. The game sold 260,000 units in the United Kingdom in its first week, making it the third fastest-selling title of all time in the UK.

On June 20, 2006, Xbox.com reported that more than a half a billion games of Halo 2 have been played on Xbox Live since its debut. As of May 9, 2006, Halo 2 is the best-selling first-generation Xbox game with 8 million copies sold worldwide. As of September 25, 2007, Halo 2 is the fifth best-selling video game in the United States with 6.3 million copies sold, according to the NPD Group. From the day of its initial release and up until mid-November 2006, Halo 2 was the most popular video game on Xbox Live, even after the release of the Xbox 360; its position was eventually surpassed in 2006 by the 360-exclusive Gears of War. Halo and Halo 2 are still some of the most played games for the Xbox console.
Halo 3

[

]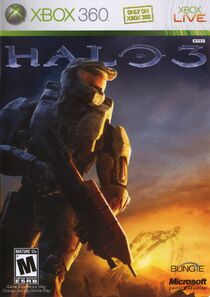 It was the fastest-selling video game ever and held the record for biggest entertainment launch in history with $170 million in sales within the first 24 hours and $300 million in one week.
As of January 3, 2008, Halo 3 has sold 8.1 million copies, and was the best-selling video game of 2007 in the U.S. To present day it has sold over 14.5 million copies.
In the U.S., Halo 3 sold 3.3 million copies in its first 12 days on sale and an estimated 2.5 million in its first day.
The game took more than 1.7 million copies in preorder sales, Microsoft says, surpassing the previous record-setting pre-orders for Halo 2.
Halo Wars

[

]
On March 19, 2009, Microsoft announced that Halo Wars had sold over 1 million copies, making it the best-selling console real-time-strategy game to date.[6]
Currently, Halo Wars has sold 1.31 million copies in North America, 0.74 million copies in Europe, and 0.04 million copies in Japan.[7]
Halo 3: ODST

[

]
Halo 3: ODST was released as a standalone game spinning off from Halo 3.
Halo Reach

[

]
Halo: Combat Evolved Anniversary

[

]
This HD remake of the original Halo game has sold 1.29 million copies in North America, 0.62 million copies in Europe, and 0.04 million copies in Japan.
Halo 4

[

]
Halo 4 grossed $220 million in its first 24 hours of release alone, marking a new record for the series. [8] Halo 4 was also the third most-sold video game of its release year, 2012. [9]. Currently, it has sold over 8 million copies in North America alone, with 1.79 million in Europe and 0.04 million in Japan.
Halo: MCC

[

]
Halo 2: Anniversary

[

]
Halo 5: Guardians

[

]
One week after launching worldwide on October 27th, 2015, Halo 5: Guardians made history as the biggest Halo launch and fastest-selling Xbox One exclusive game to-date, with more than $400 million in global sales of Halo 5: Guardians games and hardware, pushing the franchise to over $5 billion lifetime. [10]
Halo Wars 2

[

]
Halo Infinite

[

]
Announced in 2018.
References
[
]
External links
[
]