E3 2009 June 2-4.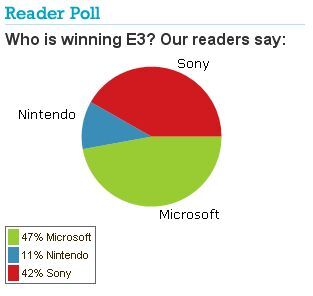 Keynote Times
Pre-E3
[
]
Most anticipated games of E3 2009
Call of Duty: Modern Warfare 2
Assassin's Creed 2
The Next Zelda
God of War 3
Uncharted 2
BioShock 2
Bayonetta
New Valve Game
Kojima Productions Announcement
Rumors
[
]
Major rumors for E3 2009 include: Microsoft unveiling a motion-sensing camera,[1][2] Sony PSP Go and a slim PS3.[3]
Show
[
]
Microsoft
[
]
Microsoft reveals Project Natal, a motion sensing add-on for the Xbox 360. Kojima revealed Metal Gear Solid: Rising for the Xbox 360. Joy Ride, a new XLA game, was announced. Crysis 2 was announced. Trailers for Crackdown 2, Tom Clancy's Splinter Cell: Conviction, Dante's Inferno, Mass Effect 2, Left 4 Dead 2, and The Saboteur were shown. Halo: Reach was announced by Bungie. Facebook was revealed to get its own program on the 360. Gameplay for Modern Warfare 2, Tom Clancy's Splinter Cell: Conviction, and Final Fantasy XIII was shown.
Nintendo
[
]
Nintendo unveiled New Super Mario Bros. Wii which supports up to 4 player co-op. Golden Sun DS was announced. Nintendo announced the new Wii accessory Wii Vitality Meter, that can record a person's heartbeat. WarioWare DIY was announced for DS. Super Mario Galaxy 2 was announced for Wii, making the Wii the first console to have two full 3D Mario Games. Wii Fit Plus was announced. More gameplay for Wii Sports Resort was shown. The final trailer of the conference announced Metroid Other M for Wii to release in 2010.
Sony
[
]
Sony revealed a new motion sensor controller prototype. A new trailer for Final Fantasy XIII was shown. Square Enix announced Final Fantasy XIV, due release in 2010. A demo for God of War III was shown. Metal Gear Solid: Peace Walker was announced. The PSP Go was featured. a new trailer for Assassins Creed 2 was released and a new gameplay demo of uncharted 2.
Notes
[
]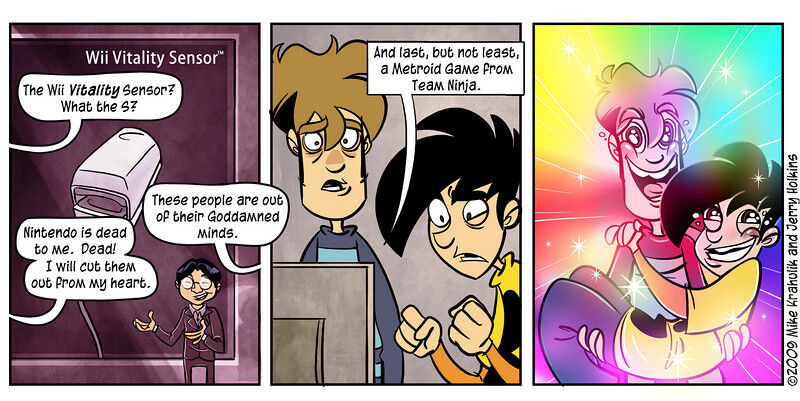 See also
[
]
References
[
]
External links
[
]