Results, surprises and story lines from 2007.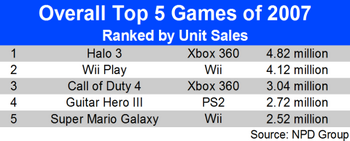 Questions for 2007
Edit
Will Wii continue selling well after a successful launch?
Will the PS3 pricepoint affect consumer sales?
Will third-parties embrace the Wii?
How successful will big releases like Halo 3 and Grand Theft Auto IV be?
2007 happenings
Edit
January to June 2008
July to December 2008
Halo 3 sells 3.3 million copies in its first 12 days since its September release.
Sony releases the PSP Slim in September, sparks sales worldwide.
For one week in November, the Xbox 360 outsells the PlayStation 3 for the first time boosted by its Xbox 360 Elite and strong sales of Ace Combat 6, according to Media Create sales data.[1]
Games that were pushed back to 2008:
Army of Two
Dragon Quest IX
Milestones
Edit
In Europe, Wii sold 5.25 million units.[1]
Major announcements
Edit
External links
Edit
Cite error: <ref> tags exist, but no <references/> tag was found
Community content is available under
CC-BY-SA
unless otherwise noted.